Every piece of art requires a muse to inspire it's creation. There are times where the inspiration you may be looking for seems to be unattainable. Some of us may go out and search for a promising source of guidance, and some of us kick back and live life; we wait for our inspiration to find us. Regardless of which method you choose, your search ends here! By just walking outside and taking a look around, you'll begin to notice that the universe is populated with ideas to bring your creativity to life. Here are 5 ways that the universe around you can be the biggest contributor to your next creative piece.
1. Seasons Affect the Color of the World and Art
Fall is finally here, and we all know what that means (at least here in Michigan we do). It is time for the temperatures to cool down, the clouds to grace us with rain, and most importantly, it is time for the leaves to change color before leaving us for the winter. This natural process can be an important and helpful asset to graphic designers old and new because it can cause consideration for color combinations or themes that you may have never thought of before.
Check out this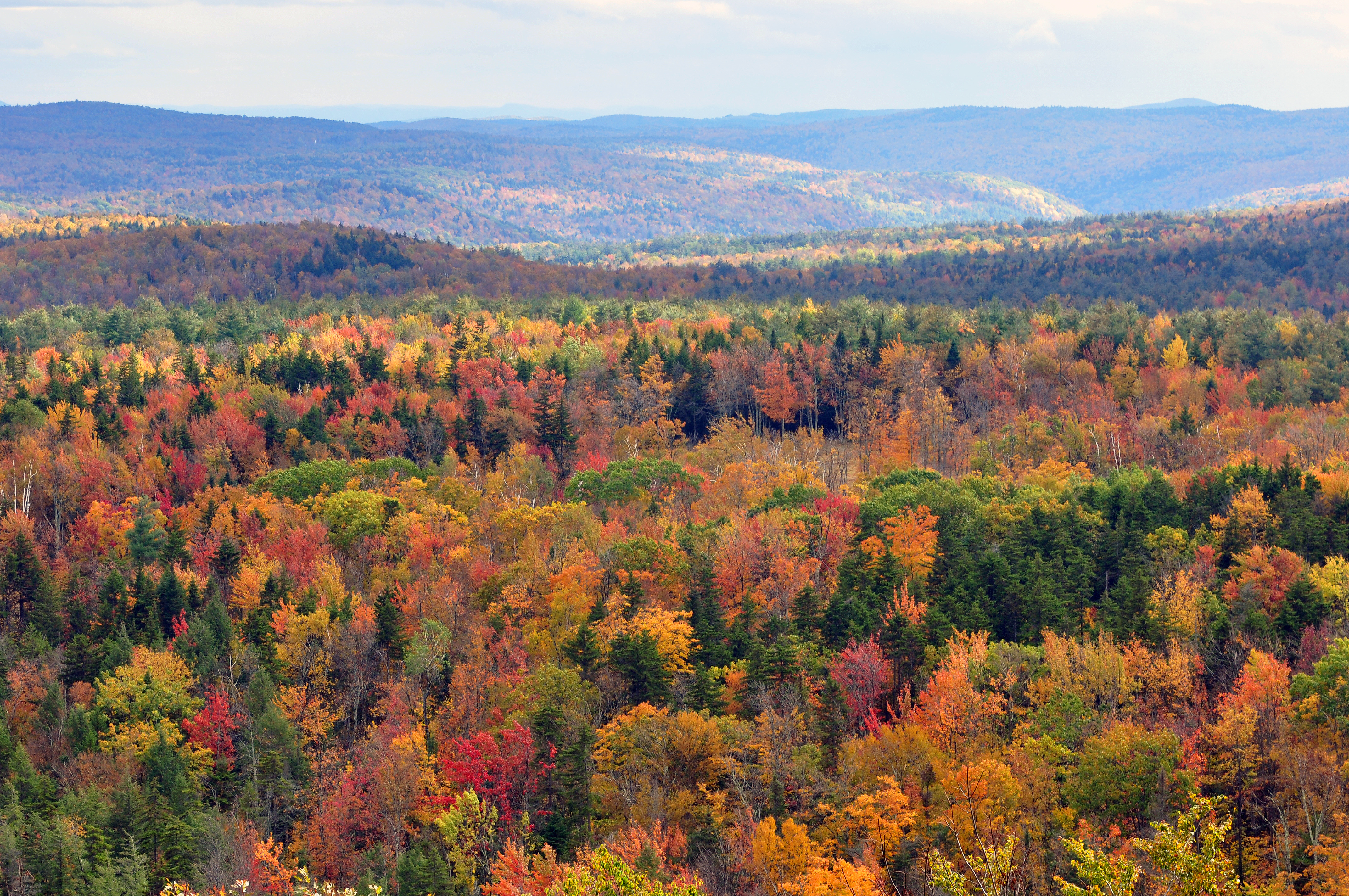 photo of the leaves changing in this forest in Vermont. The entire photo contains many ideas for different fall associated colors that could be used for advertisements, logos, company branding, etc. A unique color scheme could make the difference between your client loving your piece and wanting a revision. Also, this photo contains colors that Pantone named the colors for Fall 2014, which tells you that nature kind of knows what it's talking about. This theory applies to each season- just as fall shows all the different colors of nature; winter, spring, and summer have their own color schemes. Whether you draw your inspiration from this collection of colorful forest trees, a red-orange glowing sunset slowly hiding behind a body of water, or a bright night sky after a heavy snowfall; every season has a new color scheme.
2. Scientific Discoveries Open Up a New Realm of Ideas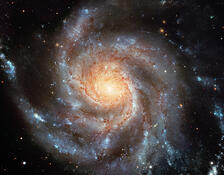 There is nothing more intriguing and inspirational than our universe. Take this spiral galaxy, for example. It took human beings thousands of years to even be able to create technology to be able to view things like this. Besides the fact that our universe is a collection of one of a kind galaxies, planets, stars, etc., it is also a collection of incomparable beauty. There is nothing in existence as visually stunning as what can be found outside of Earth, and scientists are finding new discoveries every year.
3. Art Is Life Inspired By Life
A lot of people tend to forget that life is a huge part of nature. We, as humans, are nature. Many artists tend to forget that one of the most important and influential aspects of nature is life itself. The complexity alone is enough to leave you speechless. When most people hear the word nature, they think of plants, flowers, and mountains, but forget about humans, animals, insects, etc. Life is one of the most impressive aspects of nature, and can also be one of the most influential in existence.
4. Beauty Exists in Life or Death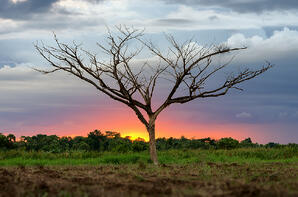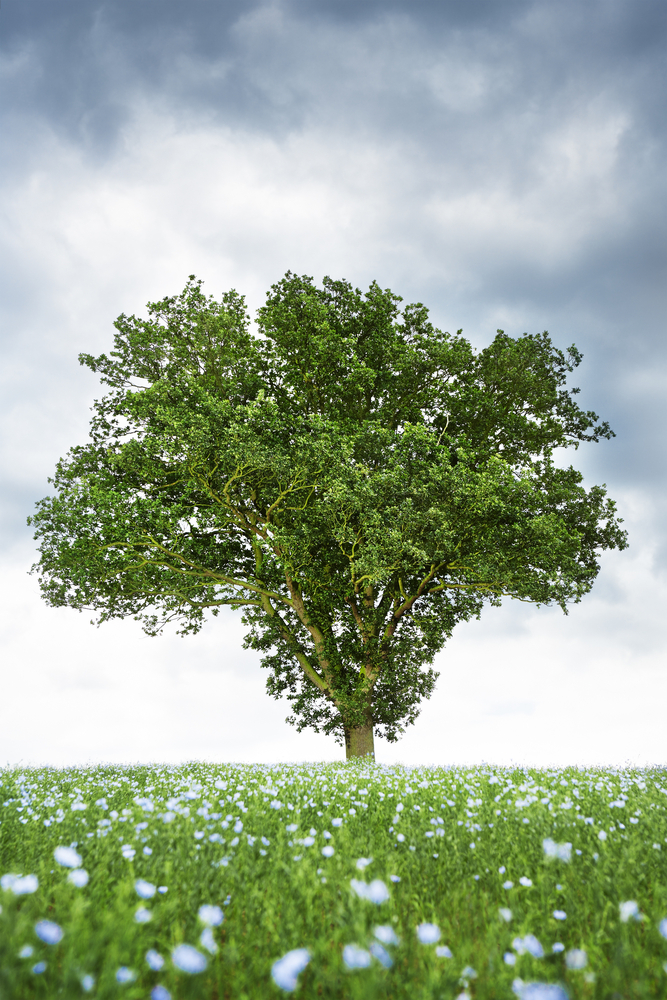 Take a look at the two photos above. What differences do you notice? The main difference is the life stages of these trees. One is alive while the other is dead. You may also notice that both of these photos still capture the beauty of nature. There is beauty and inspiration in everything old and new, fresh and seasoned, alive and dead. People have a tendency to want to cast aside ideas and physical things that don't appear to be "in their prime" because they feel that nobody wants to see or hear about them. That's just not true. Everyone is different, and dismissing inspiration or an idea just because it doesn't fit today's status quo is a recipe for "artist's block." Keeping this in mind is a sure-fire way to branch out and create a piece that you may have never pictured yourself creating.
5. The Elements Could Be Your Most Important Element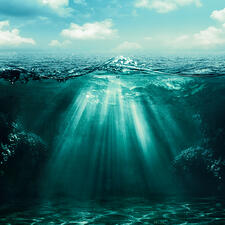 The traditional five elements are wood, earth, fire, water, and metal. These elements, when used correctly, can be the deciding factor of whether you love your design, or absolutely hate it. The beautiful thing about the elements is the fact that we have attached moods and meanings to all of them. Fire, for example, can represent power, fear, destruction, or leaving behind old ways. Water can depict life, suffocation, or cleansing. Both water and fire also have positive and negative associations. This is really useful because it opens the door to many more design possibilities than you may have previously thought. Depending on what direction you are taking with your piece, maybe the elements are exactly what you need to become inspired and create.
Being a creative is not easy, but the reward of creative fulfillment is worth it. Being a graphic designer is not for everyone as it requires the personal drive to look at everything in the world in a nontraditional and meaningful way. Receiving training for the industry is essential and Specs Howard School of Media Arts' Graphic Design program can provide you with that training to get started in the industry.
Learn more about the elements and principles of graphic design by clicking the button below to read the e-book.
Do you want more info
about Specs Howard School of Media Arts and our
Graphic Design Program
? Click here to request more info.