Any time a member of our staff interacts with one of our graduates, you can almost guarantee that one of the first questions will be, "How's Dick Kernen?" Dick was one of the first full-time employees at Specs Howard, and his personality, dedication, and work ethic would go on to become a major influence in shaping the direction and character of the school.
In the early 1970s, Dick Kernen left a program director position at WRIF. He was looking for his next job, when two very close friends suggested that he talk to Specs Howard. Initially, he was a little apprehensive about the proposal, but after some additional urging from his friends, he decided he would meet with Specs; an hour in a room together listening to Specs talk about the school and his goals for it, and Dick was on board.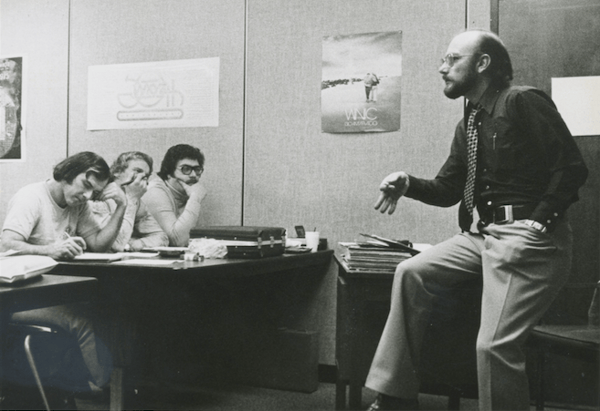 Dick Kernen began his tenure at the Specs Howard School in the Admissions Department, while doing some teaching on the side. He never particularly excelled at his admissions duties, but he quickly found himself falling in love with teaching. The chance to impart wisdom and knowledge while forming important and lasting bonds with his students was, and continues to be, Dick Kernen's favorite aspect of his career with Specs Howard.
In the late 70s, the school's leadership decided it was time to apply for national accreditation. One of the prerequisites for accreditation was a minimum success rate in placing their graduates in jobs. While the school was graduating students who went straight into the Metro Detroit work force, some graduates found that without experience or connections, it was difficult to get their foot in the door in a major market such as Detroit. Something needed to be done to increase the number of Specs grads working in the industry, and Dick Kernen took it upon himself to make that happen.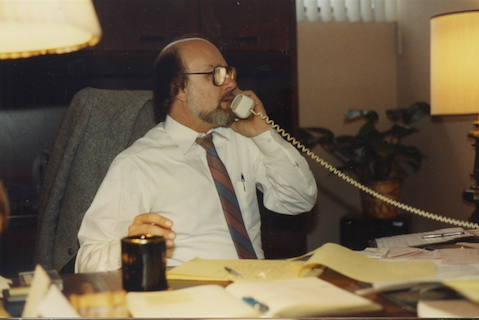 Dick hit the road and became a salesman of sorts for the school's graduates. He had had an extensive career in radio before coming to work at Specs Howard, so he took advantage of the vast network he had built during that time to help find work for grads. " I had heard of some of these places, but had never been there", said Kernen. He travelled across the state, out to Bad Axe, out to Howell, up to Traverse City, and anywhere else he might have known someone in radio looking to hire. He established the school as a credible institution that was training capable potential employees, and then solidified that reputation by delivering what he had promised. The pervasive image of the Specs Howard School as a source of talented media professionals was born from the efforts of Dick Kernen.
Soon enough, the Specs Howard School became the place to go to find capable media employees. One of our staff members recalls that in the 80s, every phone in every radio station across the state had a little silver sticker on it that said, "Need a hand? Call Dick!". While Mr. Howard was making sure that the curriculum and training at the school were thorough and impactful, Mr. Kernen was making sure people knew that talented graduates were ready for work.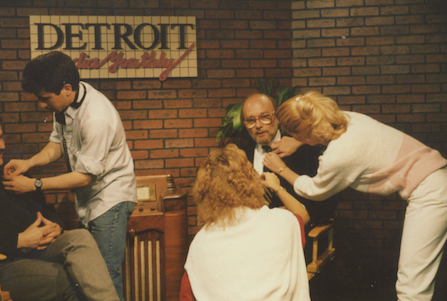 At the end of the day, Dick Kernen did everything he did for the benefit of the students. He brought a healthy dose of realism into the classroom, making sure students understood that the school would prepare them to work in radio, but they would have to start small and work hard to make it in a major market. He listened to them, catered to their individual learning styles, and sought job opportunities tailored to them as individuals. His demeanor in the classroom was welcoming, and his students learned to love him. His good-natured, humorous, and heartfelt approach in the classroom led to students dubbing him "Uncle Dick".
The image of the school that Dick Kernen established, and the values that he brought to the classroom have continued to define the Specs Howard School of Media Arts over the years. As we approach our 50th anniversary, we continue to strive to emulate the warmth, honesty, and character of Uncle Dick Kernen. "I am very proud to be a part of the history of Specs Howard!" said Kernen."I couldn't have invented a better job."