By Emory Reeves Let me first start by setting the scene.... Imagine standing hunched over an entrance to a bedroom, exhausted and in shock from the terror that has just taken place. Behind you lies the blood thirsty serial killer you''ve just defeated. And just when you think it is all over, the killer rises behind you without making a sound. While you''re resting, trying to compose yourself, the killer is inching his way closer and closer to you.
The scene that I am describing is from the film Halloween, written and directed by John Carpenter. Carpenter completed this film in 22 days on a very low budget. Using most of his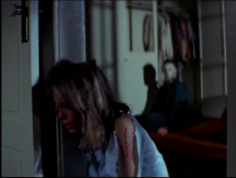 funds renting a Panavision camera, he didn''t have the luxury of having a large crew. He had his actors and actresses act as the crew, setting up and tearing down lights when they weren''t on screen.
You don''t have to use expensive equipment, nor a large crew to make a horror film. In fact with horror films, the more gritty it is, the better it is. One thing we can agree on is that horror films never get old. Think about all of your classics; everything that you see is lit in a contrasting light, giving off that sense of doom that has you gripping your chair.
To get that reaction from the audience you need to practice. Using techniques like flickering the light or causing movement in a shadow can instill these emotions without the audience realizing you got them exactly where you want them.
I''ve shot plenty of film using clamp-on work lights from Home Depot. I've also used your basic household tungsten lights as well. Keep in mind that since you're not using professional lights, there will be some color correction work to do in post.
Let me direct you to the very affordable "China Ball".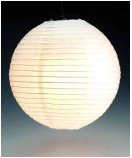 This is a simple paper lantern, usually shaped like a ball or a sphere, if you will. If you''re wondering where to buy them, places like Amazon and Ebay have these lights in many different sizes. These lights give off a diffused omni-pattern that will provide light in all directions, which is perfect to use for a two person shot. Not to mention they''re extremely cheap!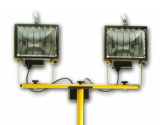 Another inexpensive source of light (other than the sun) are the hardware work lights. They come in a 500w and a 250w, you can easily find these lights at your local hardware store or online. These lights are often used on horror films, as they cast a harsh exposure, creating a fast falloff on your actor.
So now I''ve given you two examples of lights used on low budget films. One is a nice diffused light source and the other is a harsh light source. Since we are referring to horror films specifically, you can always use other sources of light. For example, in certain scenes you can use candles, flash lights, you can even throw in some night vision for effect.
I want to close with this in mind. No matter if you're using professional lights or your basic household lights... lighting is lighting. Remember to be safe, wear gloves, test for shortages and have fun!
Emory Reeves was one of Specs Howard''s very own graduates and has been in the industry for about 7 years now. Since graduating, he has had the pleasure of shooting for NBC, MTV, CBS, BBC, PBS, SPEED, Travel Channel, Discovery Channel and a number of other networks. He is obsessed with zombies and loves working in the film industry! He has worked on Transformers, Dark Knight, Semi Pro, & Grand Torino just to mention a few. He is now an instructor at Specs Howard School of Media Arts and has two of his own companies. One is a film production company and the other is a t-shirt company.