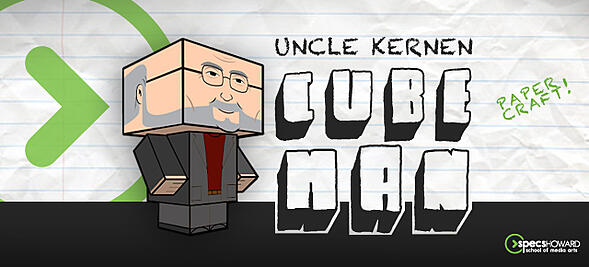 Looking for inspiration, motivation, or just a friend? Download, print, and craft your very own Uncle Kernen Cube Man! Simply place the Uncle Kernen Cube Man on your desk and watch as your work performance increases.
This simple paper craft will help improve focus, motivation, determination, as well as overall happiness. With this little version of Dick Kernen by your side, anything is possible.

---

We're looking for photos of your Kernen Cube Man! Show off how your Kernen lives it up.
Does your Kernen love to sky dive? Maybe your Kernen enjoys a jog through the park. Your Kernen may even like to scubadive (scubadiving not recommended), whatever your Kernen Cube Man enjoys take a photo of it! We want to see it!
Simply download the template from this page then print, cut, and assemble your cubeman. Place your Kernen in the setting of your choice, and photograph it. Then send us your photo's for a chance to win.
We will decide on the best photo, and will announce the winner to recieve some Specs swag!
Post your photos of your Uncle Kernen Cube Man on our Facebook wall, tweet it to us, or tag us on Instagram and don't forget to use the hashtag #cubemankernen.