Join us at our next Freestyle Friday for current Digital Media Arts students at the Farmington Hills Satellite Location!
Jan 30 | Noon - 2pm | Farmington Hills Satellite Location
Host: Adam Nelson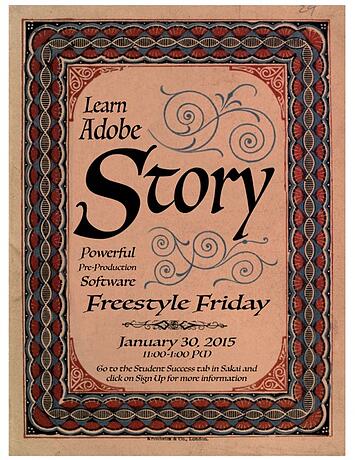 Successful Pre-Production with Adobe Story
A successful production requires good planning. That's where Adobe Story comes in. Begin your project workflow the right way with Adobe Story.
Explore the online, collaborative environment of Adobe's powerful scriptwriting and pre-production software. Learn how to navigate the interface and manage multiple projects simultaneously. Dive deep into completed scripts and build essential production reports automatically, then share them instantly.
Story is the perfect tool to support large productions, interviews, corporate messaging and everything in between.
Topics covered will include:
Project Management

Sharing and Collaborating

Script writing

Tagging and Reporting
Sign up in Sakai under the Student Success tab.
Freestyle Friday's are free events for current Specs Howard students to learn a bit extra outside the scheduled class time. They are taught by our instructors and the topics will vary. Seating is limited so sign up as soon as possible. We can't wait to see you there!
Interested in Specs Howard School and our Digital Media Arts program? Come on in and take a tour! Click here or the button below to schedule your tour today.