Join us for our next DMA Freestyle Friday!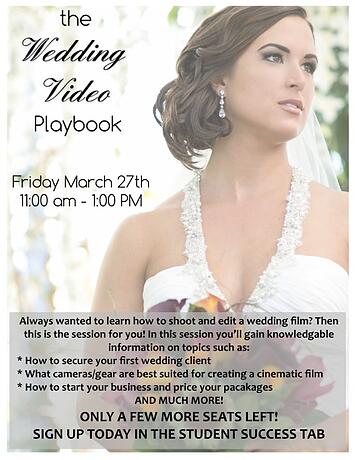 The wedding video business is both a great way to get started in the video industry and a lucrative long term career option, but how do you get started? It's not as easy as you might think. Learn the essential skills of wedding videography from an experienced professional. Topics include marketing, choosing gear, shooting the event, editing, delivering the final product, and getting paid.
Your Host: Jeremy Browe
Date: Friday, March 27, 2015
Time: 11am - 1pm
Location: Specs Howard Farmington Hills Satellite Location
Cost: FREE!! Sign up in Sakai today.
Freestyle Friday's are free events for current Specs Howard students to learn a bit extra outside the scheduled class time. They are taught by our instructors and the topics will vary. Seating is limited so sign up as soon as possible. We can't wait to see you there!
Interested in Specs Howard School and our Digital Media Arts program? Come on in and take a tour! Click here or the button below to schedule your tour today.
Bridal image compliments of lamarandstyle.com