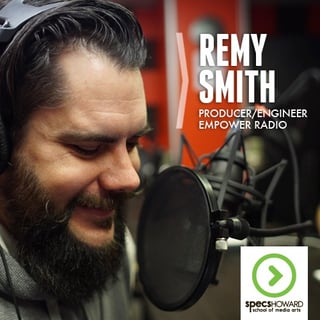 Remy Smith is a Braodcast Media Arts grad, a dad, and the owner of one killer mustache! He's working as a Producer and Engineer at Empower Radio Network and took the time to talk to us about it. Watch his interview and let us know what you think!
If you are interested in additional Specs grad stories, visit the Graduate Stories page by clicking here.

Every Specs Howard School of Media Arts graduate has a story to tell. We collect new graduate stories as often as we can. If you are a graduate and have a story to share, visit our website, and drop the Career Services department a note to let them know what you are doing. We love hearing from our graduates.
To learn more about Specs Howard School of Media Arts, click here or the button below.