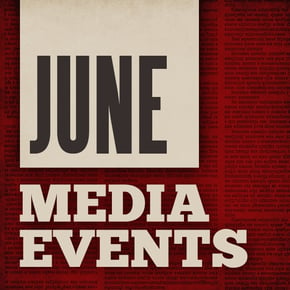 Are you tired of finding out about cool events AFTER they have happened? Don't worry, we have come up with a solution for all of you busy bees out there! Specs Howard School of Media Arts has put together a blog series cleverly titled "Media Events of the Month" just for you! Check back here monthly to stay up to date on all events related to the Graphic Design, Digital Media, or Broadcast Industries.

Cinetopia Film Festival
When: June 5-14
Where: Detroit and Ann Arbor
What: 150 Screenings, over 70 films, 10 Days, 16 venues showing the best feature-length films from other festivals from around the world.
Cost: Depends on the venue, check the link below for more details.
For more info: http://www.cinetopiafestival.org/
How to Build a Website: HTML & CSS for beginners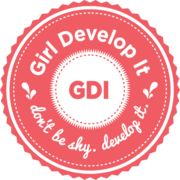 Who: Girl Develop It; a non-profit that provides web and software development skills for women
When: June 6 & 7, 2015
Where: Atomic Object 1407 Randolph St, Detroit
What: Learn to have more control with creating your own basic website using HTML and CSS; a great networking opportunity to meet other local developers
Cost: $80/person for 2-day event
To register: http://www.meetup.com/Girl-Develop-It-Detroit/events/222505417/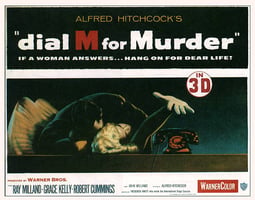 Dial M for Murder in 3-D

When: June 12 at 8p and June 13 at 2p & 8p
Where: Redford Theatre, Lahser and Grand River, Detroit
What: Watch the Alfred Hitchcock classic film in 3-D at the historical theatre
Cost: $7 (includes 3D glasses)
For more info: http://www.redfordtheatre.com/movie/

Allied Media Conference
When: June 18-21, 2015
Where: Detroit, MI
What: The conference brings together a diverse community of people using media to incite change: filmmakers, radio producers, technologists, writers, musicians, dancers, and artists.
Cost: sliding scale rate of $75 to $500
For more info: https://www.alliedmedia.org/amc
Social Media Day: Detroit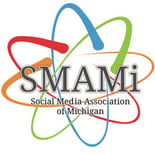 Who: Social Media Association of Michigan
When: June 26, 2015 from 5:30p to 10p
Where: Motor City Casino Hotel Detroit, MI
What: Meet face-to-face with other business professionals, innovators, and influencers to connect and build their online networks.
Cost: Free
For more info: http://smami.org/
Adventure Photography & Film Making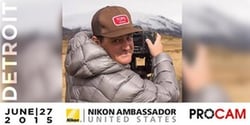 When: June 27, 2015 4p - 6p
Where: ProCam Livonia. MI
What: Capture the essence of living on the edge with adventure photographer and film maker, Lucas Gilman.
Cost: $39
To register: http://www.eventbrite.com/e/adventure-photography-film-making-with-nikon-ambassador-lucas-gilman-procam-detroit-tickets-17009499872
Current Events for Specs Students
Freestyle Friday's are free events for current Specs Howard students to learn a bit extra outside the scheduled class time. They are taught by our instructors and the topics will vary. Seating is limited so sign up as soon as possible. We can't wait to see you there!
Stop Trashing Your Work!: Non-Destructive Editing In PhotoShop
Everyone makes mistakes in Adobe Photoshop, but Cmd+Z can't save you from everything. Non-destructive editing will help you create that safety net. You'll learn how to use smart objects and filters, along with layer management, and creating layer and clipping masks. Walk away knowing how to create a project, without destroying your content. Edit smarter not harder!
Your Host: Ryan Carey
Date: Friday, June 19th, 2015
Time: 11am - 2pm
Location: Specs Howard Farmington Hills Satellite Location
Cost: FREE! Sign up in Sakai today.
We do our best to search the web and to stay in contact with our resources, but we are always looking for more connections in the industry! If you are hosting or attending any graphic design, digital media, or broadcast related events. Let us know by commenting below or contacting acook@specshoward.edu!