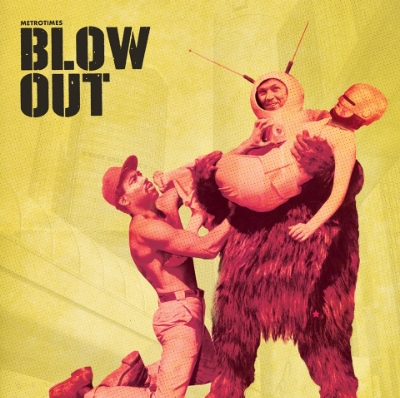 In it's 18th year, Metro Times Blowout continues it's run as one of the most legendary music events in North America. Thousands of bands from every corner of the musical spectrum play everwhere from the sweaty big stages to divey back rooms and everything in-between. Blowout fans get to see their favorite local and classic acts and find incredible new bands too!
Blowout 18 will feature more performers than ever before, gracing sweat soaked stages from Hamtramck to Detroit to Ferndale.
The Specs Howard Video Team will be filming at this year's Metro Times Blowout that will feature over 100 Artists playing 20+ stages in 3 cities over 4 nights! Check out where we are going to be filming below and stop by to say hi! Check out some of the amazing bands that we are featuring and you never know, you might end up in one of our videos!
Wednesday 4/29:
7:00p-12:00a: Launch Party at St. Andrews Hall
Thursday 4/30:
10:00 PM: Paycheck's Lounge - The Vonneguts
11:00 PM: Paycheck's Lounge - The Handgrenades
11:00 PM: The Painted Lady - James Linck
11:30 PM: The Huma Room at HopCat - Trick Trick
Friday 5/1:
7:00 PM: Jumbo's - Ryan Dillaha And The Miracle Men
9:00 PM: Jumbo's - Don Duprie and The Inside Outlaws
10:00 PM: The Majestic Cafe - Ilajide
11:00 PM: The Majestic Cafe - Doc Illingsworth
11:30 PM: The Fowling Warehouse - Nina & The Buffalo Riders
12:45 AM: The Fowling Warehouse - Sisters of Your Sunshine Vapor
Saturday 5/2:
9:00 PM: The WAB - War Horses
10:15 PM: The WAB - Jet Black Blonde
10:00 PM: Rust Belt Market - Cold Blood Club
11:00 PM: Rust Belt Market - Mainland
11:30 PM: The Loving Touch - Fucked Up
12:30 PM: Zeke's Rock and Roll BBQ - The Octopus
To check out the complete Blowout schedule visit their site.
Is video production something you want to be more involved with? Consider an education in Digital Media Arts. In the Digital Media Arts (DMA) program at Specs Howard School students learn everything from pre-production to post to uploading and hosting their content on the web. Make an appointment to take a tour of our DMA program located at Studio Center in Farmington Hills. Click here or the button below to schedule your tour!