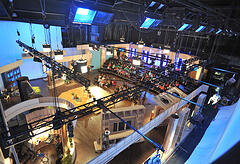 The soundstage located in Farmington Hills is planning to reopen in 2015 after a 4 year hiatus. Studio Center was recently purchased by Sterling Group, a Michigan-based real estate company after being previously owned by post-production company, Grace & Wild. The building holds three sound stages which have been used to create television ads and films such as a few scenes from George Clooney's The Ides of March.
The Studio is located on Industrial Drive in Farmington Hills, Michigan. Studio Center is also home to the Satellite Location of Specs Howard School of Media Arts. At this location, students can learn about Digital Media Arts; studying video production, digital editing and basic concepts in web site creation and design.
Julie Hinds of the Detroit Free Press recently interviewed Studio Center's new director Carrie Jones about the future plans for Studio Center. The rest of the article can be found here.
The goal now, according to Jones, is to improve and invest in Studio Center in order to reboot it as one of the top production locations in the state. Jones expects the changes to be finished by sometime in 2015. "I'm going to be really focused on the rebrand, coming up with a new name, working on the improvements and giving the facility a new look and feel, but also just making sure that folks know we're here and open for business," said Jones, who most recently was executive director of the Michigan Venture Capital Association.

The appointment of Jones signals that Studio Center is ready to get back on the radar in a bigger way. "We think the future for the film and media production industry in Michigan is bright," says Jones. "We're hearing that the ad agencies are spending more and more on commercials, so that's going to be an area we'll target heavily. But there are also so many exciting things happening with digital media, mobile apps, video games — all of these things. That's also a strong target. We're also a natural space for film as well."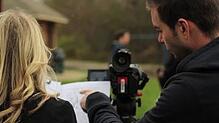 To learn more about Specs Howard School of Media Arts' Digital Media Arts program located in Farmington Hills, click
here
.
Interested in taking a tour of the Specs Howard Farmington Hills satellite location at Studio Center? Make an appointment by clicking the button below!