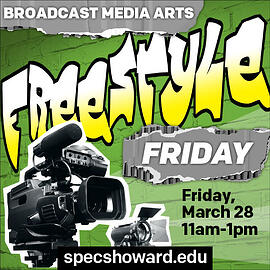 Broadcast Media Arts Freestyle Friday
On-Camera Performance Workshop: Taking it to the Next Level
Friday, March 28 | 11am – 1pm | Studio "A"
We're offering all current Broadcast Media Arts students an opportunity to join us for a fun two hours where you'll get extra on-camera and TelePrompter experience, receive professional-level critique, peer critique, custom tips and become a better on-camera talent for News, Sports, and Field Reporting.
Your hosts: Gary Bosek, Nick Wisniske and Randy Z
IT'S FREE! Register on Sakai, or see Randy Z in the Student Success office
For more information on On-Air Talent and Specs Howard School of Media Arts, click the here or the image below.