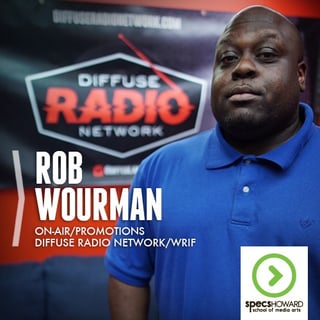 Rob Wourman is working on-air at Diffuse Radio Network and doing promotions at WRIF. He got to where he is with some hard work, dedication and a good sense of humor. Listen to his experiences here at Specs Howard in the Broadcast Media Arts program and even after graduation. Let us know what you think!
If you are interested in additional Specs grad stories, visit the Graduate Stories page by clicking here.

Every Specs Howard School of Media Arts graduate has a story to tell. We collect new graduate stories as often as we can. If you are a graduate and have a story to share, visit our website, and drop the Career Services department a note to let them know what you are doing. We love hearing from our graduates.
To learn more about Specs Howard School of Media Arts, click here or the button below.