On Monday May 4, 2015, America's premiere female live voice announcer, Randy Thomas, will be here at Specs Howard for "Your Voiceover Career". This event is being held at the Southfield campus of Specs Howard School of Media Arts from 6:30pm-9:00pm.
There will be many topics covered during the event, including:
The Audition Process - Creating the Best Demo Reel
Breaking Down a Script Quickly - Live Site Reading Auditions
The Different Genre of Voiceover - Commercials, Cartoons, Live Announcing, Audio Books
Technology
Taking Care of Your Voice and Body
If you don't know who Randy Thomas is, SAG-AFTRA has your back.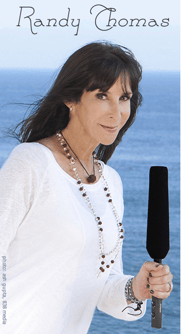 "Randy Thomas is one of America's premiere female live voice announcers Randy Thomas made history as the first woman to announce The Academy Awards, The Emmy Awards, The SAG Awards, and The AFI Awards, to name a few. She has been winning accolades and opening doors for female voice artists for over 20 years. For the past nine years she has been heard daily as the iconic voice of CBS Television Distribution's Entertainment Tonight.
In addition to voiceover, with more than 20 years of experience as a radio personality in New York, Los Angeles, Detroit, and Miami, Thomas has gone on to achieve her dreams as one of the most recognizable voice over artists in the world as well as co-author of Voice for Hire: Launch and Maintain a Lucrative Career in Voice-Overs (Watson-Guptill Publications, a division of Random House Inc.)."
Source: www.sagaftra.org
Seating is limited. Please RSVP at Michigan@sagaftra.org.

Looking for more than a workshop? Consider an education that will not only help you perfect your on-air performance but will teach you what goes on behind the scenes as well. Check out our 12-month Broadcast Media Arts program. Click the button below to request more information.