One of the Michigan's more prominent law offices has gone through a makeover recently. Can you guess which one it was? We'll give you a clue. Her face is plastered all over billboards, benches and busses in the Metro Detroit Area. Did you guess the law offices of Joumana Kayrouz? You are right! Joumana and her team are now expanding their practice outside of Michigan and are polishing their "look" as they expand. They have a new aggressive billboard campaign and have completely transformed their website. Here are a few more trivia questions for you. Who made these ads? Who is in charge of the design and layout of the website? Who has designed the billboard campaigns for the lawyer that was recently named the "Top Lawyer of the Year" by DBusiness Magazine? Instead of making you guess, we'll just go ahead and say it. Specs Howard School of Media Arts graduate, Paul Schmidt. Surprised? You shouldn't be.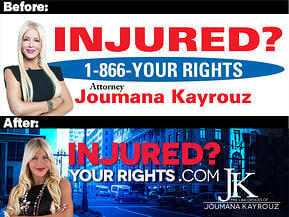 Paul is one of our many Graphic Design grads that are out there doing spectacular things in the area. Previous to working at the firm he was an intern at Metro Times in the production department. There he got the opportunity to see what working in graphic design was really like. He says, "It was an amazing experience and it helped me build my portfolio. I even designed a cover for one of the issues!" Paul started working for The Law Offices of Joumana Kayrouz in 2012. He is the Director of Media Design and IT. That means that he is responsible for designing the visual assets that defines the firm's brand. Paul has put forth a great effort to rebrand the law offices of Joumana Kayrouz with not only a stunning, yet simple and recognizable billboard campaign, but he also completely rebuilt their new website, www.YourRights.com. The website now focuses less on Joumana's high name recognition and more on the expansion of their services to other states.

Not everyone thinks that after going to school for graphic design that one would end up at a law firm. Not even Paul. His Career Services Advisor here at Specs referred him to the office for an interview. Just a short time after graduating, Paul landed his first graphic design job and he loves it. Paul mentions that he "loves the fact that I actually enjoy going to work everyday because I work at a place where I can be creative. I used to wait tables and now I have a career in graphic design." One thing that Graphic Design students, graduates and people working in the industry have to keep in mind is that graphic design is everywhere. Almost every company out there needs a graphic designer at some point. Whether it be for logo creation, website design or assistance with the branding of their company. It's important that you make sure to check out anyplace you can think of for a job once you decide to take the plunge into the media industry.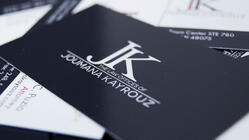 If you are thinking about taking the plunge into the wide world of media, a great education should be your first step. Here at Specs Howard School of Media Arts, we offer a 12 month graphic design program that can get you started. This program is made to work around your busy schedule. We offer day and evening blended learning courses. What's blended learning you ask? That means that two days a week, class will be held on campus so you get the hands-on training that we are known for, and the rest of your time and classwork can be completed on-line at your convenience.
Looking for more info on what a Specs Howard education can help you do? Click here or the image below to start learning more about graphic design.