Rebecca Lynn Spada is a graduate of Specs Howard School of Media Arts' class of 2012 and currently has a career as an associate producer for the City of St. Clair Shores Communications department. She also provides freelance video services for the city when necessary.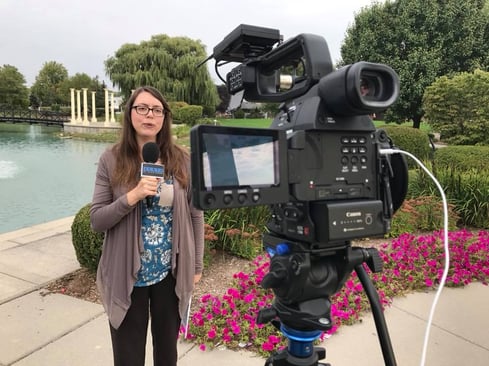 While she was still in attendance at Specs Howard, Rebecca managed to secure an internship with St. Clair Shores city government access channel. During this internship she was responsible for a number of production duties during the local news show including running cables and setting up mics and cameras. During this time the station was still using video tape, so Rebecca was responsible for making sure the tape settings were correct and all the recording devices were running properly. After some time performing these tasks, the city began entrusting her to go out and gather relevant b-roll for the pieces they were putting together and the stories they were covering. Her performance continued to impress, and eventually she was sent to help cover major events around the city, like the Memorial Day parade or the annual tree lighting ceremony. Rebecca sites these experiences with the larger events as pivotal for helping her develop a confidence in her abilities that allowed her to branch out into further ventures and try new things while filming.
After graduation, Rebecca continued to work for the city in small freelance roles when needed. St. Clair Shore's communications director and multimedia director advocated for her to the city council and helped create the position in which she currently serves.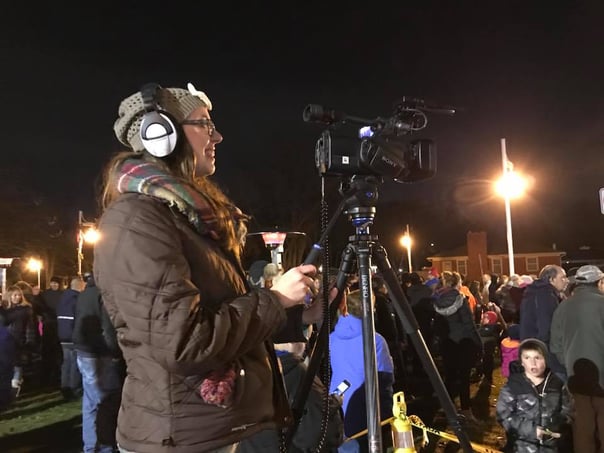 Rebecca continues to enjoy her work for the ability to learn new media skills and techniques to incorporate into her production style, but what she really loves is the feel of being a part of and contributing significantly to the community of St. Clair Shores. When asked about her favorite event to work on Rebecca said "Definitely the tree lighting ceremony we have in St. Clair Shores. It's because everybody's happy, everybody's excited to see Santa Claus, and even though it's not a huge event that people flock to it's so much fun to see everyone enjoying themselves and getting into the holiday spirit. I love seeing the community coming together for the kids and making sure they're having a great time." This love of community extends beyond the holidays too. "Through filming everything for the city," Rebecca said, "I've learned a lot about our community, and I really enjoy the opportunity to showcase stories involving our city and the people who live and work here!" Nothing makes Rebecca's day more than hearing from the residents of St. Clair Shores about how much they enjoy the programming she helps make happen on a daily basis.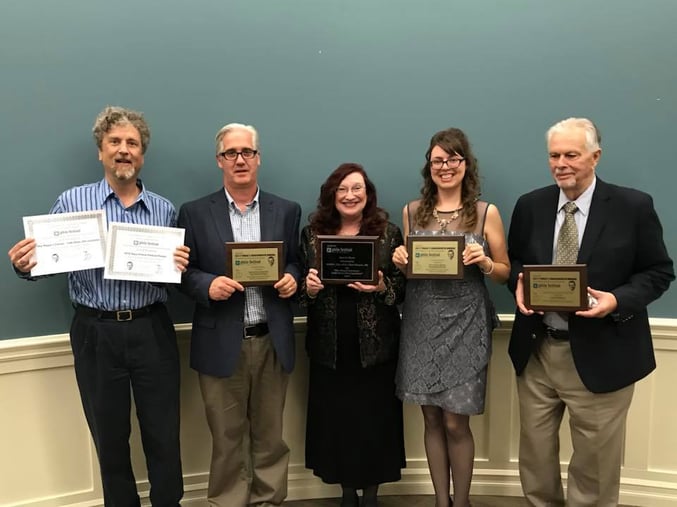 Recently, St. Clair Shores has also been submitting for the Philo Awards and in 2016 they won their first award for Overall Excellence in Government Access and have won multiple awards since. The also received an honorable mention from the National Association of Telecommunications Officers and Advisors. The awards are run within the Central States Alliance, currently comprised of Michigan, Ohio, Indiana, and Kentucky. When you submit work, you become a member of the judging committee. This means your work is being judged by your peers and you get a chance to see the work put out by your contemporaries. Rebecca loves being a part of this and seeing all the interesting and exciting pieces being produced by similar organizations.
While Rebecca enjoys all aspects of production, she's most interested in camera operation and editing. She's always on the look out for ways to make her footage more dynamic and interesting while filming, and she loves to see those efforts come together to make a polished and exciting piece in the editing bay.
Rebecca is looking forward to continue learning and expanding her abilities in the media industry. She hopes to continue to have a career that allows her to bring light to important issues and inform the people of her community of things happening around them. She has a deep love for nature that she hopes can one day influence the work she produces. "I'd like to film something that makes people more aware of the importance of animals. Something that shows that everything has a place in this world and we shouldn't be so selfish to think 'well if it's not affecting me, it's not affecting the planet." Rebecca said.
Are you a Specs Howard Alumni? We want to tell your story too! Click the button below to being the process.