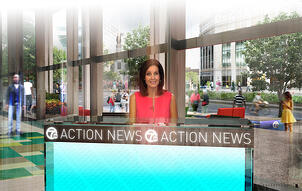 WXYZ Channel 7, the ABC affiliate in Detroit, are expanding their studios into downtown in the Chase Tower.
The building, also called The Qube, is located at 611 Woodward Ave in the heart of downtown Detroit. The glass-enclosed space will face onto the street with views of Campus Martius Park. It will be opening in the fall of 2014 and be the new home of 7 Action News at Noon with Joann Purtan.
The new studio space will be used for other special programs such as the Christmas tree lighting ceremony downtown and will be used by both WXYZ and TV20 Detroit. Their main studio in Southfield will still be used for most other newscasts.
On WXYZ's website, Ed Fernandez, WXYZ Vice President and General Manager, said "This downtown studio puts us closer to all the people and neighborhoods of Detroit, and geographically closer to many of the movers and shakers whose decisions impact those same people."
WXYZ made the announcement on October 22, 2014 about the start of the construction process. You can watch the video and learn more here.
Many Specs Howard graduates work at WXYZ and at many other television studios. Meet WXYZ Video Editor and Specs Grad, Taylor Sharpe!
To learn all about the Broadcast industry, stop by Specs Howard to tour the school and meet with an Admissions Rep today!