The Specs Howard School of Media Arts has had a long relationship with the Detroit Sports Broadcasters Association (DSBA). This year the DSBA awarded two deserving Specs Howard students with an amazing scholarship.
The DSBA has been recognizing Detroit area sports broadcasters since 1948. The association was founded by Ty Tyson and other sports announcers in the metro Detroit area. The partnership between Specs Howard and the DSBA started six years ago in 2011. Every year since, the DSBA has awarded Specs Howard students with scholarships to further their media education.
In order to be considered for the scholarship, the students needed to maintain at least a 3.0 GPA. They also had to apply and submit a written essay. All eligible students were then interviewed by a panel of media professionals from the DSBA. This year's winners are Anthony Sylvester and Nicholas Alarcon! Each will take home a $1,000 scholarship and will be awarded student membership into the Detroit Broadcasters Association! On October 10th, the duo was honored at the DSBA Detroit Red Wings Season Preview luncheon.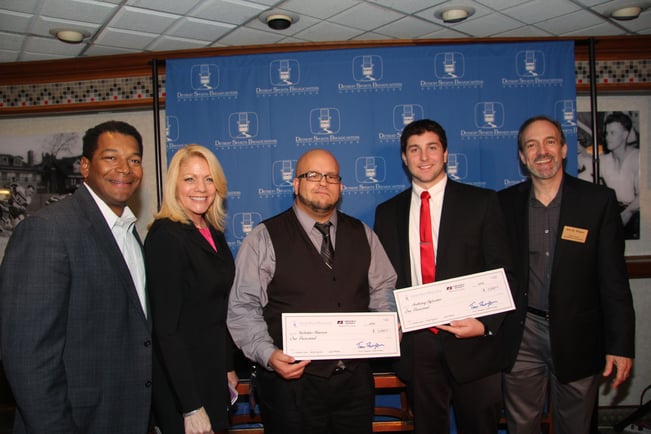 Specs Howard students Nicholas Alarcon & Anthony Sylvester accept their scholarships at the Detroit Red Wings luncheon on October 10th at Joe Louis Arena
"These scholarships are part of our growing commitment to educational excellence and assistance to aspiring students of sports media," said Trevor Thompson, DSBA President. "The pool of candidates from Specs Howard was excellent, but Nick and Anthony really displayed the type of passion and dedication it takes to build a career in this industry. We're proud to award them this recognition, and congratulate all the candidates on their accomplishments."
Both scholarship recipients are overjoyed to receive this recognition from the DSBA. "I am extremely honored and grateful for the opportunity to have earned this scholarship. I cannot wait to see what my future holds with Specs Howard and the DSBA," said current Broadcast Media Arts student Nicholas Alacron.
Recent Specs Howard Broadcast Media Arts graduate, Anthony Sylvester, had similar feelings, "Winning this award and scholarship means so much to me and I am so honored and blessed to have this opportunity. I had an awesome time here at Specs Howard and winning this award/scholarship is just a testament to all of the hard work. I want to thank all of the folks at Specs Howard who supported and helped me along the way!"
Photo credit: DSBA