Bryan Boedeker has always been a creative person, something he attributes to his creative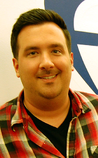 parents. While working in a nursing home he felt unfulfilled. He began creating flyers for friends and always had various music projects going for fun. He still felt like he needed more. That's when he took the plunge and entered into Specs Howard's Graphic Design program. "It was a test, like do I really want to do this?" Bryan said of the course. It turns out he did, and he was able to use his creative drive to help him land a job at Fathead in Detroit.
We were able to catch up to Bryan so he could tell you himself how Specs moved him into the right direction.
Bryan works everyday creating graphics that are displayed on the walls of various Detroit companies and colleges. "I wouldn't of ended up here if it wasn't for me going to Specs Howard." Catch up with more of Specs Howard Graduates here.