Deadline Detroit is hosting an event Thursday September 26 at the Compuware Headquaters for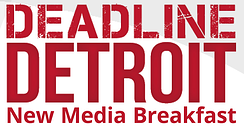 New Media Professionals. The discusion will revolve around "New Media", what it means and what it means for you. One of the main focuses of the morning will be the discussion with media professionals from around Detroit.
This is a great event for Digital Media Arts or Graphic Design students and graduates to hear about what is happening in the Detroit media scene. It's a great chance to talk to professionals Tim Smith, President of Skidmore Studio, Carrie Hensel, Founder of Inner Circle Media, Alecia Sweeny, Founder of Steelfish Design and David London, an expert in visual comunications. Each of the four panalist have a different perspective on the market today, and each will share insights solving the question of how we consume media.
Click here to register for the event, and let us know in the comment section below if you do. The event starts at 8 with registration ending at 8:30 and a panel disscusion to happen directly after. We look forward to seeing you there.