#SpecsHoward and

#7AutoShow Tweetup at #NAIAS
There will be another great Tweetup happening on January 15th, 2015 during the Industry Preview! The first 100 people that signed up will join Specs Howard and WXYZ in checking out the 2015 North American International Auto Show and photographing the cars before the show opens to the public. All pictures/videos/posts will be posted to Twitter, Facebook or Instagram using the hashtags #7autoshow, #specshoward and #naias. Check out some of last years photos here.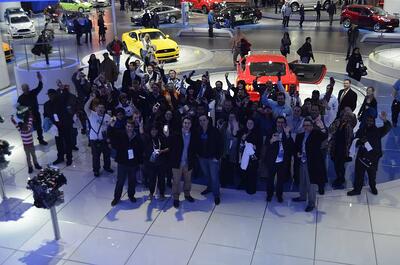 Attendees of the 2014 Tweetup.
Follow us @SpecsHoward to keep up with all the cool cars during the Tweetup and to learn more about Specs Howard School of Media Arts. Click on the images below to quickly find us.