Join Specs Howard and WXYZ for another tweetup in Detroit.
There will be another great Tweetup happening on Friday, May 29th, 2015 during the Free Prix Day. The first 100 people that sign up will join Specs Howard and WXYZ in checking out the Chevrolet Detroit Belle Isle Grand Prix and photographing the cars during practice. Attendees will also have access to behind-the-scenes areas where the Indycars set up. All pictures/videos/posts will be posted to Twitter, Facebook or Instagram using the hashtags #DetroitGP, #TheInsideTrack and #SpecsHoward.
Spots are limited, so sign up now! Click here for more info and to register.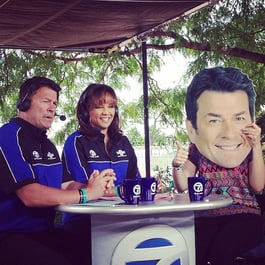 WXYZ Anchors Stephen Clark, Carolyn Clifford,
and Fathead Stephen at the 2014 Grand Prix Tweetup
Follow us @SpecsHoward to keep up with everything Grand Prix during the Tweetup and to learn more about Specs Howard School of Media Arts. Click on the images below to quickly find us.