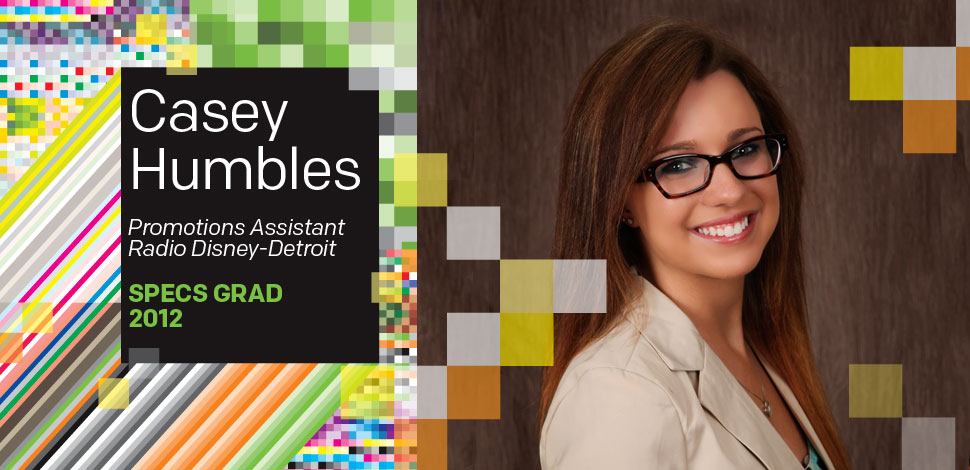 "I work with a group of amazing individuals who come together as a whole, and represent the face of Disney for the Detroit area."
-Casey Humbles


We asked Specs Grad Casey Humbles to share her story on working in the Broadcast Industry.

Where do you work and what do you do there?
I currently am a Promotions Assistant at Radio Disney-Detroit. I do promotions, like putting up tents and organizing giveaways, to operating the sound board during the Disney event shows.
What do you feel separates Specs Howard from other schools?
I feel the hands-on training at Specs is what makes it amazing.
If someone were to ask what it's like to attend Specs Howard, what would you say?
I would say it is something that definitely changed my life for the better. If you have ever been interested in the broadcast arts or design, go to Specs.
What were the instructors like while you were at Specs?
The instructors are really awesome. Most of them have been in the business and that's what makes the learning so fun. One of the best things is seeing that your teacher is someone you used to listen to on the radio growing up.
Describe your most memorable Specs Howard moment.
My most memorable moment at Specs was actually the last night of my classes. Our class became a family in a course of 12 months. In that last class, we held our very own mock elections, and it was something I will never forget.
Describe a life changing moment related to attending Specs Howard School.
My life changing moment would be the Career Fair at Specs that was held while I was still a student. I got hired as an intern at 89x on the spot. That internship lead me to meet so many connections in the industry.
How does Specs Howard prepare you for the real world?
Well for starters, my resume looks amazing. Also, I know all the questions I will need to know in any job interview situation.
Have you encountered other Specs grads in the workplace?
I actually received my job at Disney because I communicated with a Specs grad who graduated a year before me. Pretty awesome connections.
Describe the people you work with on a daily basis.
I work with a group of amazing individuals who come together as a whole, and represent the face of Disney for the Detroit area.
How do people respond when you tell them what you do for a living?
People honestly can't believe that I am 19 years old, a year shy of my Bachelors, and working for the Walt Disney Corporation. It's something to be proud of.
What do you love most about your job?
I love my job because I can affect so many kids lives and help them shine in their own way. When they see Disney, they think WOW!
What would people be surprised to learn about you?
People would be surprised to learn that I actually am a really shy, and keep-to-myself kind of person. It takes a lot for me to put myself completely out there, but I've managed to do it!
If you are interested in additional Specs Howard graduate stories, visit the Graduate Stories page by clicking here.

Every Specs Howard School of Media Arts graduate has a story to tell. We collect new life lessons from the field as often as we can. If you are a graduate and have a story to share, visit our website, and drop the Career Services department a note to let them know what you are doing. We love hearing from our graduates.